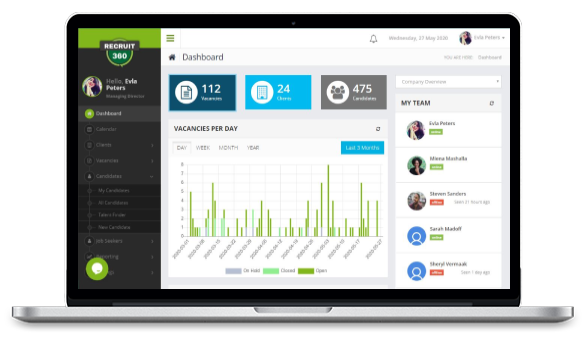 All-in-One Recruitment Software
Designed for Recruitment & Staffing Agencies
Track, Analyze and Improve
Developed for recruiters by recruiters who understand the time-urgent nature of the industry, Recruit 360 is loaded with features that will make running your business easier and earn you more placements.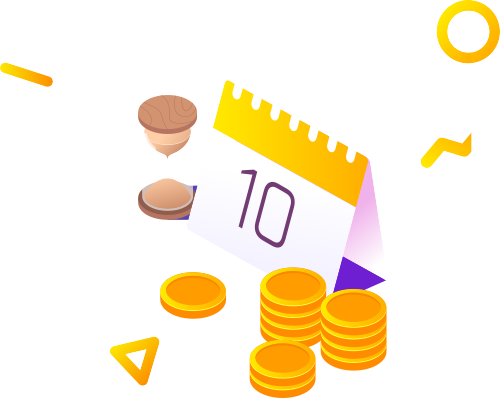 Stop wasting time, Start Earning
Recruit 360 enables you to do away with time-wasting duplication and unnecessary processes and harnesses the interactive ability of people today. Save time, reduce costs and make more placements with Recruit 360.
Improved turnaround time.

More placements, more often.
Integrated solutions designed for the fast paced recruitment industry.
Use flexible tools that go where your team goes. Your data is safely stored in the cloud.
Dashboard
Recruit 360's powerful dashboard makes it easy to see all your most important metrics in once place.
User Friendly
Our system was built from the ground up with usability and user-friendliness in mind. Easy to use, easy to learn.
Leads
Import your calling sheets into Recruit 360, make notes, add contacts, record interactions and convert leads to clients.
Clients & Contacts
Create all your clients in one place, upload multiple contacts and select a primary contact for each vacancy.
Candidates
Recruit 360 has an easy to use CV Builder. Export branded Candidate CV's in PDF or Word.
Powerful Search
Search through your entire database in milliseconds and filter results by skills, education, company etc.
Vacancies
Manage all your vacancies on Recruit 360 and post to all your favorite job portals directly from the system.
Screening Questions
Create screening questions with scores, and attach them to your vacancies for applicants to complete when they apply.
Job Applications
All job applications feed back into Recruit 360 for online processing. Shortlist or regret applicants at the click of a button.
Interviews & Calendar
Schedule interviews and optionally send interview notes and calendar entries to your team, client and candidate.
Workflow
Manage all shortlisted candidates, interviews, job offers and placements from within each vacancy.
Tasks & Reminders
Consultants can create tasks & reminders while interacting with, or working on clients, vacancies and candidate profiles.
Notes
Consultants can create notes while interacting with, or working on clients, vacancies and candidate profiles.
Attachments
Recruit 360 has an unlimited cloud-based storage repository for safe and secure attachment storage.
Insightful Reporting
Keep your finger on the pulse of your business with real-time stats, dashboards and reports.
Website Integration
Turn your website into your own mini job portal and let Job Seekers register and apply for jobs directly from your website.
Resume Parser
Easy & accurate AI based resume parser. Parse candidate resumes quickly and save time on manual data entry.
LinkedIn Parser
Import LinkedIn profiles into Recruit 360 at the click of a button using our handy Chrome browser plugin.
Social Sharing
Easily share vacancies with candidates via various social media platforms, whatsapp, email and more.
WhatsApp
Contact applicants and candidates using WhatsApp and stop paying for SMS credits.
Chat Support
Our live online chat system is available to clients and candidates to get you in touch with our support team in real-time.